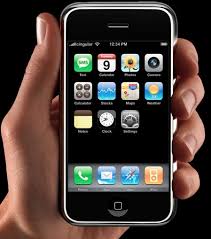 So I just got an iPhone for Christmas. 
Hello (!), I'm sure you've heard this from someone already, but that thing is amazing. I'm hooked. The real genius of this device is the "apps" you can download instantly, many of them for free.  Did you know there's a "help me find my car" app?  They must've been thinking of me.  Thank you, iPhone!
I searched the App Store for any wedding applications that might be available. I came across
iWeddings
. It's basically an electronic planning device, outfitted specifically for weddings.  Neato!
Here's a few features from iWedding that I like:
It takes advantage of your Contacts list from your iPhone, which is great if you need to contact a bakery, photographer, or wedding planner (!) on any specific day.  Everything is connected!
There's a countdown feature, detailing the number of days until the wedding!  Perfect!
You can manage your wedding's budget.
You can handle your gift registries! 
The best thing, in my opinion, is the Top 5 list.  The app allows you to always have, at your fingertips, the 5 most important tasks that need doing for your wedding.  Very handy for any bride-to-be on the go.  
Can you tell that I'm a fan?  Not that a piece of software will ever replace an actual wedding planner (ha!), but this little organizer gizmo sure can make wedding planning easier.